Angular Control Flow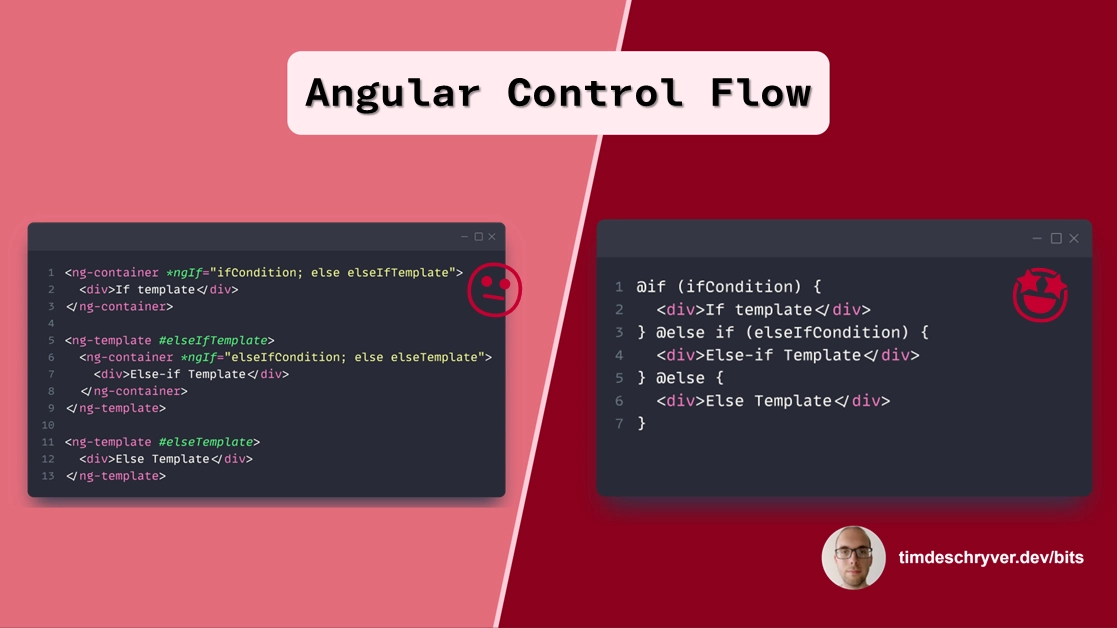 The past week I cursed Angular a little bit because I just wanted to have a simple if-else condition within my HTML template. But, as you probably already know, we have to jump through a couple of hoops to get this working. The result is a not-so-easy-to-read template that's prone to errors.
Angular 17 changes that by providing a new (opt-in) way on how we write our templates. Instead of using the structural directives NgIf, NgFor, and NgSwitch, you'll be able to use the new @ syntax.
This change drastically improves the Developer's Experience;
it's easier to read
you don't have to import the directives
it's less verbose since you don't have to create wrapper components e.g. ng-container.
As an example, let's take a look at my if-else condition and compare both solutions.
For completeness let's also take a look at the new syntaxes to iterate over a collection (*ngFor) and how to create a switch expression (*ngSwitch).
To already try out the new Control Flow feature before it's officialy released, update the angular compiler options within the TypeScript configuration file. Add the _enabledBlockTypes property, and add the blocks you want to use within your application.
For more information see the Angular blog post Meet Angular's New Control Flow.
Follow me
You can find me on Twitter, LinkedIn, and GitHub.
Support me
I appreciate it if you would support me if have you enjoyed this post and found it useful, thank you in advance.